Venue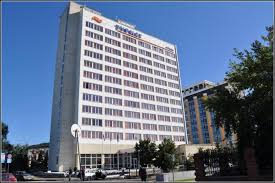 Tourist Hotel
Address: Broz Tito Street 2, 644024 Omsk, Russia
Hotel Details:
Located on the bank of the Irtysh River, this traditional hotel is set in Omsk's cultural centre. It offers a 24-hour reception and spacious rooms with minibar and free Wi-Fi access.
Each of the bright rooms at Tourist Hotel feature classic-style interiors with solid wooden furniture. Comforts include a satellite TV and free calls to landline telephones in Omsk.
The elegant Globus restaurant serves European and local dishes, and guests can also sample freshly-baked cakes and desserts from the on-site café. Breakfast can even be brought to your room on request.
A 5-minute walk from the hotel takes you to the striking blue and gold domed rooftops of the Assumption Cathedral. Omsk Theatre of Drama and the historic buildings along Lenina Street are within 1 km of Tourist Hotel.
Omsk Airport is a 10-minute drive from the hotel and transfers to Omsk Central Train Station can be arranged.